"The Avengers" enters its second weekend at the box office today, looking to give Tim Burton and Johnny Depp a run for their money. But it's not just "Dark Shadows" that Earth's mightiest heroes are flirting with — they've also made a fan out of a certain member of the Dark Knight's inner circle.
Take a look at a Hulked-out Robin, plus other "Avengers" mash-ups and more, in today's Tights!
» With the secret "Avengers" mid-credits scene known to just about everybody, it looks as though a certain purple-skinned someone is about to become more and more popular in the Marvel universe. Over at Newsarama, Graeme McMillan speculates about what the return of Thanos to the pages of the "Avengers" comics might mean for Marvel Studios' future plans.
» In honor of the late Maurice Sendak and the still hot "Avengers," it is decreed that the wild smashing must start! [Buzzfeed]
» New "Dredd" photos feature lots of Karl Urban growling and grimacing at the camera. Looks about right. [Blastr]
» What does Agent Coulson do on his day off? As if you didn't know the answer... [Robot 6]
» Hawkeye already has a killer action figure to his name, so how about an equally sweet bust to match it? [MTV Geek]
» And then there was the time that Robin fell for a new Bruce... [Dan Hipp]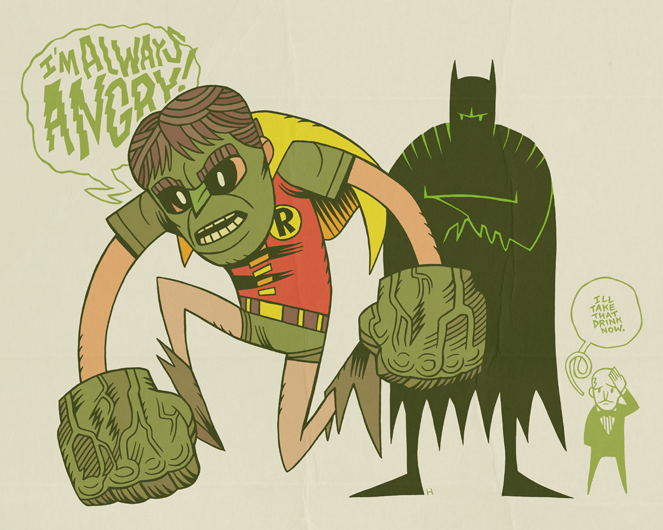 In Tights, we're bringing you all the odds and ends circling about the comic book movie sphere. From the bizarre Batman business to the spectacular Spider-Man scoops, consider this your one-stop shop for all the weirdness the wonderful world of comics-based movies has to offer.